Row & Flow
This class is taught by: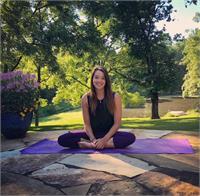 Lauren is a yoga instructor with a long history as a competitive gymnast. She completed her 200 hour yoga teacher training through CorePower Yoga and can now be found teaching yoga classes in a variety of locations in the city. Join Lauren for Row and Flow in the Manayunk and Rittenhouse studios! When she's not teaching yoga, Lauren works as a clinical Dietitian. On her off time, you will find her
Row and Flow classes combine two great ways to workout. Get your blood flowing with an intense, extended warm up on the rowing machine then transition into various yoga poses focusing on flexibility, range of motion, and breathing. An excellent way to start your day for all experience and fitness levels. Namaste.
Upcoming classes:
Sign Up

Sun

Dec 23 9:00 am - 9:45 am

with

Lauren P

P




Sign Up

Sun

Dec 30 9:00 am - 9:45 am

with

Lauren P

P




Sign Up

Sun

Jan 06 9:00 am - 9:45 am

with

Lauren P

P




Sign Up

Sun

Jan 13 9:00 am - 9:45 am

with

Lauren P

P




Sign Up

Sun

Jan 20 9:00 am - 9:45 am

with

Lauren P

P




Sign Up

Sun

Jan 27 9:00 am - 9:45 am

with

Lauren P

P




Sun

Feb 03 9:00 am - 9:45 am

with

Lauren P

P




Sun

Feb 10 9:00 am - 9:45 am

with

Lauren P

P




Sun

Feb 17 9:00 am - 9:45 am

with

Lauren P

P




Sun

Feb 24 9:00 am - 9:45 am

with

Lauren P

P




Sun

Mar 03 9:00 am - 9:45 am

with

Lauren P

P




Sun

Mar 10 9:00 am - 9:45 am

with

Lauren P

P




Sun

Mar 17 9:00 am - 9:45 am

with

Lauren P

P




Sun

Mar 24 9:00 am - 9:45 am

with

Lauren P

P




Sun

Mar 31 9:00 am - 9:45 am

with

Lauren P

P




Sun

Apr 07 9:00 am - 9:45 am

with

Lauren P

P




Sun

Apr 14 9:00 am - 9:45 am

with

Lauren P

P